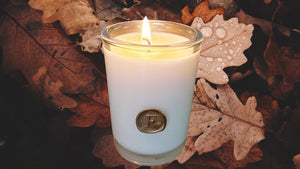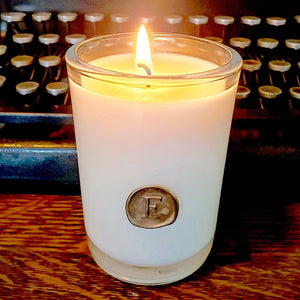 MEET THE STAR OF OUR SHOW
Embark on an enchanting journey with us and let these exquisite details be your guiding light to discovering your next beloved FIFOLET fragrance.
Introducing our exclusive 8.5 oz clear glass luxury candle, adorned with our signature wax seal, this offering is a testament to our unwavering dedication to excellence.
Meticulously crafted in a single, versatile size, free from artificial dyes, and lovingly poured, it radiates with the warmth of care and dedication. Our secret to the most sublime scents? We use pure soybeans for our wax, a cotton wick, and only the most superior fragrances available, guaranteeing an unparalleled olfactory adventure.
Every FIFOLET candle is hand-poured in small artisanal batches, promising you an extraordinary sensory journey. As part of our commitment to sustainability, we make conscious efforts to incorporate recycled materials wherever possible, illuminating your space with elegance, eco-friendliness, and unparalleled luxury.
Take a journey with us and allow the images to help guide you to your next favorite FIFOLET fragrance.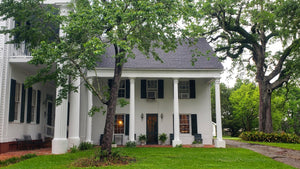 HISTORY OF OUR STUDIO SPACE
FIFOLET Candle Makers is strategically located in the heart of Franklin, Louisiana, within one of the oldest and most historically significant structures in St. Mary Parish.
Nestled behind the iconic Shadowlawn residence on the picturesque banks of the Bayou Teche, this splendid Greek Revival building, dating back to 1810, initially served as a bustling tavern and inn for travelers.
Evolving through the annals of history, it transitioned from its early role into residential quarters and a central kitchen for the main house. This time-honored establishment has borne witness to pivotal historical events, from wartime eras to the comings and goings of majestic schooners and sugar-laden paddle wheelers.
Enduring countless hurricanes and natural adversities over the years, all while overseeing the serene waters of the Bayou Teche, this structure has persevered as a symbol of resilience.
Today, as FIFOLET Candle Makers, we are honored to play a role in the ongoing legacy of this esteemed landmark. Explore our collection and discover a touch of history in each of our meticulously crafted products.